KronoScope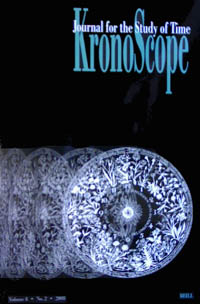 Time bears a unique and direct pertinence to all human concerns. Time is a fundamental feature of the physical universe, of the life process, of the functions of the mind, and of collective behaviour. Time is an all-pervasive, intimate and immediate part of human experience.Time has been the subject of much study and debate in the arts, the sciences, the social and behavioral sciences and the humanities. 
Since 1966, the International Society for the Study of Time (ISST) has been providing a framework for an interdisciplinary dialogue about the nature of time. KronoScope, edited by an international board of scholars, carries forward the work of ISST. It offers a forum for the cross-fertilization of scholarly and scientific study about the nature of time as seen from a range of perspectives and disciplines. As a journal, it can accommodate the expanding concerns of the global community in search of understanding and meaning. KronoScope invites critical contributions from all disciplines.
Accessing the online version of KronoScope
New subscribers should receive an e-mail directly from Brill asking them to activate access.
Online submission: Articles for publication in KronoScope can be submitted online through Brill Publishing's Editorial Manager submission portal. Potential contributors should direct queries to ISST's Managing Editor.